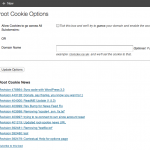 No taking two years to release an update is not good, but in my defence root-cookie is so simple that there are very few issues and complaints ;)
Actually a two year wait isn't strictly true, those watching the dev log would have seen I've pushed the odd update here and there.
So what prompts this release, well I've noticed that in WP3.3 that the cookie functions have changed, so to ensure future compatibility (and minimal issues for me) I have updated this plugin to be aligned to the core source.
The usual blurb...
ChangeLog
Contextual Help
Bug fix "undefined method WP_Error::get_items"
Logout Enhancement
WP 3.3 Compatability
Donation Link (it's good for your karma)