In June MoneySavingExpert (MSE) was sold for mega-bucks, what makes this interesting is that MSE is not a social-network or "Cool" start-up site, it's a straight forward consumer information site where the cherry on top is a large user base in the form of a Community Forum.
What I've always wondered is, how does a free site support such a large user base? (Given the lack of obvious advertising.) I've had a quick poke about and have concluded that the site was funded by both deep pockets from Martin Lewis (Probably funded by Interviews,Consultancy,etc) and affiliates. A lot of the links point to an "internal" redirection pages, with the large user base tracking how many users exit the site for a particular deal could be a nice little cash earner.
So here I am working on my own little affiliate experiment, if I can "attract" some web traffic, perhaps a user base to "attract" some pocket money? ... or maybe get rich quick :)
Using technology i.e. some simple SEO, a bit of optimisation and luck can I make an affiliate system work?
My plan here is to build a "focused" shopping index, using an affiliate database. I have generated a site of products using open source technologies and a bit of cloud magic. I have aimed for streamlined, simple, FAST!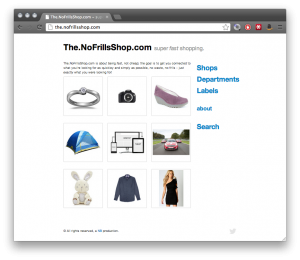 The site went live 1st Sept, all was good. Within the first week I had generated a small amount of cash, enough to cover the hosting (for the month) and by the end of the month I had covered my domain registration fees. September ended a balance sheet of zero, what did October bring? Nothing - GOOGLE PUNISHSES ME!
I'm working on the root cause but it appears Google is not happy, literally overnight traffic to the site has dropped.... actually that punishment has made it's way over to linickx.com too!
I suspect that one cause may be due to the "domain reputation", i.e. a new site with a large number of pages/links - have I inadvertently copied a spamming technique? Another cause may be lack of social integrations, the whole world is mad about facebook/google+, does the site need "friends"? I have been tweeting (there are mutal links between the two) - I'm not sure if that counts for much.
The main issue I can see is that according to webmaster tools a lot of the indexed pages are considered "duplicate" content, which would be true since everyone on the affiliate scheme would have the same content. I was hoping that my tech'y skillz would enable my site to be the most optimised - my ego has been suitably put back in it's box.
My current conclusion is that I do not have enough companion content to rank the site highly, but I do think there is an opportunity here... keep watching I'm going somewhere with this, I can feel it :D
FOOT NOTE: BTW I should point out there is some benefits from being punished by google, since september less spammers have found my site, but I guess that means less real people are reading this as well... ho-hum, onwards and upwards!