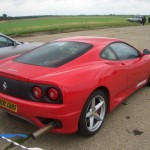 I'm almost ashamed of how long it's taken me to get round to writing this post, but stuff is a bit full on at the mo. A couple of weeks ago I cashed in a driving experience voucher my wife brought me for Christmas, yep not only does it take me two weeks to write a post, but it takes me 9 months to book a day out !
The experience was with u drive cars based in oxford; it was an early is start. The booking was for 11 O'Clock Am, but you had to turn up 30mins early for a briefing. The deal is you're there to drive the car, (one that you'll probably never be able to afford) not race, drive. The instructor will want you to take the 1st lap comfortably (i.e. boy racer mode off), once their happy your not gonna write it off you floor it !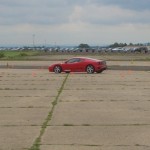 It all look place on a private air field, the circuit was a run way with "turning points" at either end. U drive do other non-Ferrari stuff so there was a 911 there, an evo, a scooby-doo, a couple of others and some racing thing I didn't recognise.
So you're briefed up, and then it's the nervous wait. I explained to "The Mrs", the wait was a bit like queuing for a really big rolla-coaster
- you want to do it, you know it's a little dangerous, you're going to do it, and it'll be awesome ! The instructor bloke moves the car out of the parking space, it roars - sweeeeeeeeeet, and the bloke before you get's in, and yep he poodles away at 5mph, he pulls round the corner and away, 30secs later you can hear the car roaring back, turns and floors it away - SMART !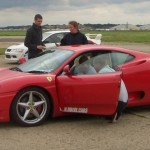 It's my turn, I'm allowed past the safety barrier, and you actually realise how big these things are; I got it, it's a long way down. The inside is leather, tight, but comfortable. You're sat with your feet straight out in-front, the wheel's relatively high (I'm 6ft so seeing wasn't an issue) but what surprised me was how high & small the gear box was. As instructed I pull away carefully, the clutch is really hard/tough/strong, you feel a little like a learner because the whole driving thing is different, the main exception is you're acutely aware it's costing you £10 per minute !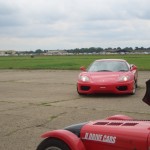 I've pulled onto the 1st straight, the gear box is short and hard/tough/strong (again), the instructor says, put your foot down and when you see the brake sign on your right - do it ! I've put my foot down, no sooner than I've thought "down" rev's are monster high, and I'm rapidly changing gear - jerking all the way :( - only up to 4th (out of 6) and it's time to slow down and turn round to go back up the runway.
I brake heavy, and use 2nd to slow me down, the car actually feels heavy round the hair pin. The instructor bloke guides me round, and points me in a straight directions. 2nd go, flooring it, 6/7k rpms on each gear, up to 5, f*ckin screaming along... brake, brake, brake, BRAKE ! oops came in a little quick.
Ok I'm ready now, hit the clutch hard, change gear fast, aim for smooth. I fly down, smoother than before, so frickin quick. Hair pin is easier this time, and the instructors gets me to floor it out the corner, go go go go , done turning round again, the bloke behind in the F1 ferrari wants to overtake (he's got flappy paddles so they went quicker everytime), actually this puts me off a little, but I still hit 5th - yeah baby.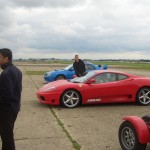 Last go, can I hit 6th ? Foot down, but 1st change is a jerker - dam ! - hit 5th anyway. Each lap was felt monster quick, rev's high everytime, the bloke says she'll do 100Mph in 3rd gear ! I just wish I had a chance to look at the speedo !
I pull the car into park, the adrenaline is pumping, went so quick, so awesome. I don't wanna get out... nothing will go like that ! I'm out, time to reflect, would I spend the money again - hell yeah! - would I spend £100,000 on one ? (please!)
Well I hope you enjoy the pics!