[caption id="attachment_1602" align="alignright" width="150" caption="Black Outlook Today"]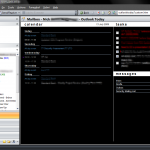 [/caption]
I'm not sure how helpful the screenshot is as I've had to blur out most of the writing but hopefully you'll get the "gist".... Yep it's a screen shot of a black (dark themed) outlook today.
There's a couple of good references....
If you want to create your own. Mine is basically the winter theme all blacked out, if you like it I've attached it; to use, unpack somewhere then go to Outlook and do the following:
Right-click on your main Mailbox in the Navigation Bar.
Select Properties.
Select the Home Page tab in the resulting window.
Make sure the Show home page by default for this folder checkbox is checked.
Click the Browse button and browse to the location of the newly created HTML document.
Click OK.
Go back to the Navigation Bar and click on the main Mailbox so that it displays Outlook Today.
Enjoy!